Beginning SUMMER 2021
Maple Leaf Crossing will be located at Calumet Ave. and 45th Street, in Munster. The initial phase of the project, expected to begin with demolition of the current site in July 2019, is expected to include several commercial buildings, including space for professional office, retail, medical, restaurant, warehousing and container architecture.
A highly designed and welcomed addition to Munster
Maple Leaf Crossing will create a highly stylized development drawing from our heritage of steel and rail. Incorporating container architecture, Maple Leaf Crossing will offer unique local shops, first-class professional space and an extension of the Monon Trail path through the middle of campus providing bikers, walkers and businesspeople with a fresh place to meet for lunch, shopping or a night on the town.
As Featured In The Times of Northwest Indiana
"The new Maple Leaf Crossing development in Munster will bring cutting-edge shipping container architecture to the Region — as well a School of Rock music school, a Hyatt Place hotel, a glassy four-story office building, new retail shops and restaurants, and possibly a second BuffaLouie's eatery like the one just off the Indiana University campus in Bloomington." [Link to full story]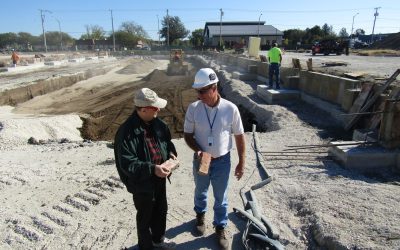 Region historian Ken Schoon, left, and Munster Building Inspector Glenn Rhodes tour the Maple Leaf Crossing development site where a cache of historic bricks was discovered.Building Inspector Glenn Rhodes, left, and Region historian Ken Schoon tour the Maple Leaf...